4 Tips to Consider Before Mixing and Matching Your Bridesmaid Dresses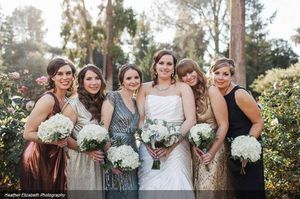 Mixing and matching the bridesmaid dresses is a hot trend right now with no signs of ending anytime soon. So if you have just begun your wedding planing, and are thinking of the look and style for your bridesmaids, here are some tips you will want to consider.
All Short or All Long?: Do you want everyone to have short dresses and have the color be different for each girl? Or do you want all the dresses to be long? The length of the dress is important, you will see that some brides will do one girl (normally the maid-of-honor) be in one length, while the others are different.
Choosing the Right Color for Your Bridesmaid: Having each of your girls in a different color is fun, but you will want to make sure you have the right color for each of your bridesmaid. You wouldn't want to put a very light color on a fair skinned girl. Also, when it comes to mixing and matching, think about the shades of the color you want, and make sure that the shades you are choosing work well together. Find the right colors with our Pantone Wedding Color Guides!
Mixing and Matching Accessories: Maybe mixing and matching has nothing to do with the dress itself, but everything to do with the accessories. Have each girl wear a different necklace or bracelet. When it comes to shoes, have each girl wear a shoe that fits her style and comfort. If you are looking for fun and unique accessories, check out all of our accessories at Dessy.com!
Different Patterns: It doesn't need to be about color at all, but rather about various patterns and materials. Incorporate sparkle or lace into your bridesmaid dresses. Have each girl wear a different material of the same dress or a different dress with a different material in the same color. The options are endless.