5 Fun Ways To Keep Children Happy At a summer Wedding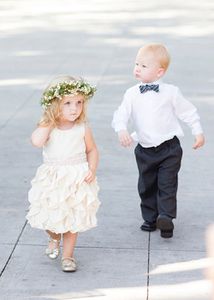 A lot of brides and grooms will plan summertime weddings if they've got a bunch of children on their guest list, as it tends to be the easiest way to avoid most school and athletic conflicts, and make sure as many children as possible can attend. Some couples aren't thrilled about having little ones attend their wedding, but the brides and grooms who are excited to include children keep the kids in mind when they do their wedding planning.
The key, in my professional opinion, to having every guest enjoy the wedding festivities is to have one or more babysitters on hand (depending on how many children attend, and the ages) to keep a general eye out, and help facilitate special planned activities. In addition, here are five fun and easy ways to make sure that your littlest guests have as much fun as the big ones:
1. Have a "Kids-Only" table at the reception, and cover the entire thing with brown butcher paper and boxes of crayons, markers, and stickers. You can put seats at the regular tables for them during the actual dinner if they need assistance from their parents, but having an activities table available gives them a quiet spot to entertain themselves when they lose interest during long toasts.
2. Offer a special kids' meal to your younger guests. Most of them won't appreciate the regular dinner menu, especially if you have fancy foodie tendencies. If you're having a buffet, ask the caterer if they can provide a children's buffet as well, on a lower table the kids can reach to make their own selections. It makes the children feel special, and guarantees they'll actually eat.
3. Consider offering an interactive dessert display. Let the kids decorate pre-frosted mini cupcakes with sprinkles, sparkles and other edible décor. Set up a table with all the fun stuff and let them have at it. It gives the children something to keep them busy for awhile after dinner so they're not running around when their parents take to the dance floor. And if you're having a dessert buffet, you can offer the kids' creative designs as well. It will make your guests smile.
4. Every child loves a lemonade stand. For a daytime wedding, build a little booth using your wedding colors, and assign the children the task of serving drinks in little cups decorated with fun straws and umbrellas. True, most of the adults will be cocktailing, but nobody will be able to resist the little ones and their pop up business. No payment required, of course!
5. Set up a "Fun Room" in another part of the venue with a Disney movie and some other quiet activities. The goal isn't to keep the children corralled for the duration of your party, but rather to have a cool, quiet place for them to go (or be taken) if all the activity is a little too much. It's great to do it in a bedroom, if one is available, because the little ones can simply crash whenever they get tired.