5 Wedding Planning Secrets Only The Pros Know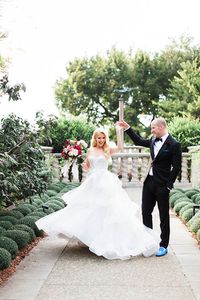 While wedding planners and their assistants are an amazing source of knowledge for advice when it comes to actually planning your wedding, the number of brides they've sent down the aisle means they've got a huge supply of insider tips that will come in super handy on your wedding day, too. If you have a planner or a day-of coordinator helping out on your wedding day, chances are she or he will come armed with their own solutions to everything from static to stains, but a girl can never be too prepared! Here are some tried-and-true tips that planners have picked up over the years — they're usually a pro's best-kept secrets, but they're sharing them with you.
1. How to cure static
"Instead of static spray, which has a chemical smell, I rub dryer sheets on everyone's legs to get rid of static," says Stephanie Frazier Grimm, owner of Couture Parties.
2. How to clean dress stains
"I treat dress stains with bread and white chalk," says Roey Mizrahi, founder of Roey Mizrahi Events. "I use the bread to soak up and remove the stain, then cover any remnants with the chalk."
Alicia Falango, owner of Alicia K Designs, seconds the chalk idea. "It's a great way to cover up stains on dresses," she says.
3. How to avoid pollen stains from flowers
"For flowers with loose pollen (especially darker colored pollen, like on anemones), a spritz of hairspray will help keep the powder from brushing off onto your gown," says Samantha Robertson, lead planner fo Bella Design & Planning. "And if your veil has creases or wrinkles, put down the steamer and instead use a blowdryer on a warm (not hot) setting to avoid melting the delicate fabric."
And in a pinch, go back to your childhood. "If all else has failed, baby powder will help cover up pollen or lipstick smudges on white dresses," says Amy Nichols of Amy Nichols Special Events.
4. How to avoid wardrobe malfunctions
Mizrahi also has a few tips for fashion malfunctions. "Hairspray will work as static spray in a pinch, and if you don't have fashion tape, regular double-sided tape will work just as well to keep straps from moving and avoid a nip-slip!"

5. How to keep linens in place
When it comes to the reception, head to the hardware store! "I use stick-on Velcro to hold down linen corners if it's breezy," says Grimm. "I also use zip ties to cinch linens around tall cocktail tables, then cover them with knots of fabric."