5 Wedding Themes That Are Trending Right Now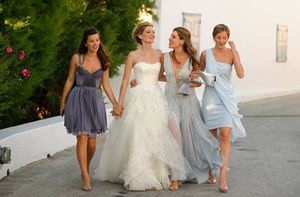 Rustic weddings are so last year! Now, it's all about modern geometrics and all things eclectic. For a more detailed look at what's hot (and what's not so much anymore) in the wedding world, take a peek at these five wedding themes that are super on trend right now.
1. All Things Eclectic
In a continued effort to represent the bride and groom uniquely, more and more clients are asking for "eclectic but chic" designs, reveals planner Lauren Chitwood, owner and founder of Lauren Chitwood Events. "Think mismatched accessories and interesting pattern play. The goal is to have an effortless look that is flawlessly done." Because who doesn't love a perfectly imperfect wedding?
2. Dreamy Greenery
Greenery is back and in a big way! According to Chitwood, the days of compact floral mounds are out, as beautiful arrangements with textural greenery are all the rage now. This theme works beautifully both indoors (for example, at a hip industrial space) and out (on an urban rooftop or in the middle of the forest), with string lights or other soft lighting like candles helping set the stage for organic romance.
3. Modern Geometrics
The rustic trend is finally beginning to take a new shape, yay! Brides who still want an organic feel but without being too "country" are digging geometric accents, like flower-filled terrariums, tells Dezhda "Dee" Gaubert, owner of No Worries Event Planning. "Mixing in lush greenery and blooms with metallic and glass in bold geometrics adds a welcome modern edge to the rustic look that had started to overstay its welcome."

4. Holiday Celebrations
'Tis the season to throw a holiday-themed wedding! As our lives continue to get more hectic and destination weddings become commonplace, Chitwood says couples are eager to combine their celebrations with popular calendar holidays that are perfect for a party (or, you know, a mini vacation for their guests too). "Halloween, New Year's Eve and the Fourth of July have become hot themes for festive nuptials, as these special dates naturally lend themselves to themed celebrations," she notes.
5. Dark Colors
Bye-bye blush, hello color! As we all know, light pinks and blush have been a very dominant, go-to color theme over the past several years. "Now, many brides and grooms are starting to deepen their palette with richer hues to provide an edge to their look without losing a sense of elegance," explains Gaubert. "Dark, rich colors bring depth and gravity to décor and work particularly well for fall and winter weddings." Black wedding cakes are even a thing now!