6 Bridal Skincare Tips You Have To Follow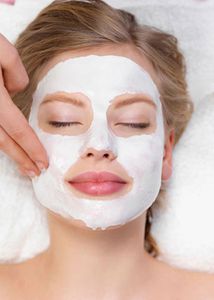 You've been so busy focusing on the guest list, design details, and getting that dream bridal body that you've completely forgotten about your beautiful skincare! You can't count on the glowing love you'll feel walking down the aisle to get that bridal radiance. It's time to get serious about your skin regime! Follow these easy tips for glowing bridal skin.
1. Vow to work for it. Consult your dermatologist on a 6 month regimen and stick with it! Tackling problems such as acne, melasma, or dry skin requires planning with professional guidance, and diligence on your part to maximize results.
2. Vow to be gentle to your dermis. Never get a facial or use harsh exfoliants the two weeks before your wedding. They can result in potential breakouts or rashes that will be hard to cover up. Instead, prep your face with eye and facial moisturizing masks, along with a non oily SPF cream, the few days leading up to your big day.
3. Vow to look like yourself! Bring your own foundation with you... Makeup artists use great products but may not have every foundation color option in their kit. Use what your skin is used to, and what you wear on a daily bases for a more natural look. Your makeup artist can apply a heavier powder afterwards to get that perfect porcelain skin desired for bridal portraits.
4. Vow to get your beauty rest. Don't be the last one standing at your rehearsal dinner... Set a curfew and put yourself to bed! You will not only have better energy on your wedding day, but your skin will be able to rejuvenate overnight and give you a refreshing glow.
5. Vow to take it easy on the bubbly... This is absolutely a celebratory time but we all know alcohol dries out the skin. Leading up to your wedding, drink the standard 8oz of water a day, and keep the champagne to a minimum before you walk down the aisle. Once the "I Dos" are exchanged, you're free to let loose!
6. Vow to show your stripes... not! Post editing in the photo studio can only go so far with with severe tan lines... Stay out of the sun the week of your wedding, and if you prefer yourself with a sun kissed glow, opt for a spray tan a few days before you put on that glorious white dress.