6 Reasons You'll Love your Engagement!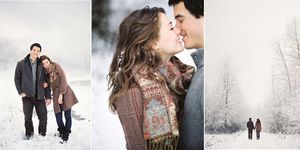 Getting engaged is a wonderful time, there is so much to look forward to and so much to enjoy as you plan one of the most important days in your life. We thought we would share some more highlights of your engagement that will definitely make you love this time even more!
1. You won't stop smiling! Smiling is always a good thing, especially when the person you love more than anything has asked you to marry them. This will be wonderful feeling especially when you know you are going to be with the person you want to spend the rest of your life with. Smiling this much will also come in handy for all of those beautiful engagement photos you will take.
2. You'll get to be the center of attention! For the first few months of your engagement, people will want to know about how he proposed and they will want to see your ring and want to know what your wedding plans are. Who doesn't love being the center of attention every once in a while?
3. Magazines, wedding websites and more! Who doesn't love looking at wedding magazines, wedding websites, downloading apps and even creating a wedding board on Pinterest for their dream wedding? Well now it isn't just dream, it will soon be a reality. Make sure to visit The Dessy Group Pinterest page for your wedding!
4. Engagement ring selfies will definitely be a must during your engagement! Especially today with social media sites like Instagram and Facebook being so popular for these types of pictures! Speaking of selfies, make sure you send us your engagement ring selfie to Dm4tay@aol.com!
5. Shopping for a wedding dress is always fun! One of the first things you will do and definitely enjoy doing is shopping for a wedding dress.
6. You get to pick some of your favorite people as your bridesmaids! Over the years you probably envisioned who would stand beside you as you say "I do" and now you get the opportunity to tell those important people in your life how much they mean to you by asking them to be part of your special day. And after you've picked your bridesmaids, be sure to check out all of our newest spring bridesmaid dresses at Dessy.com!
7. Engagement party– Yes! Whether you're planning a big shindig or something quite and intimate with just close family and friends, your engagement party is one of the many perks about getting engaged! More reasons to love being engaged!