Do We Have To Have a cards&Gifts Table At Our Wedding Reception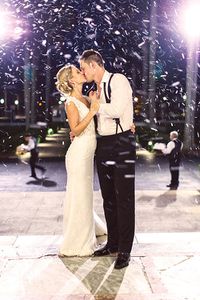 While most guests nowadays choose to buy wedding gifts online and ship them directly to the couple, there are still a few holdouts who would rather bring the gift in person, especially if it's cash or a check. Collecting these gifts on your wedding day can be a hassle but, while having a cards and gifts table definitely makes it a little easier, it also takes up space (and means you have to rent an extra table and linen!). So do you actually have to have a designated table to collect gifts guests bring with them to your wedding? Our experts weigh in.
There are definitely good reasons to have a specific place where guests can put cards and gifts. It will keep items from getting lost, it allows guests to put the bag or box they're carrying down instead of trying to tuck it under their table at dinner, and it makes for easy packing at the end of the night. But if you're short on space or simply don't think many guests will be bringing anything with them on your wedding day, you can definitely skip the table. However, you should have a backup plan.
The best way to accept gifts and cards on your wedding day without setting up a table is to let your wedding planner and the venue staff know, and ask them to collect gifts from your guests. They can put everything in a safe place for you during the reception, and then can help coordinate delivering the gifts to your hotel room (or loading them into your car) at the end of the night. Let your wedding party know about the plan so they can spread the word, especially if they spot a guest holding a beautifully wrapped box, looking for somewhere to put it!