How To Find The Perfect First Dance Song For A Same-Sex Wedding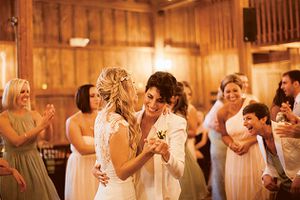 Choosing the perfect wedding song for such a monumental moment as the first dance is a task and a half, and especially so when you're a same-sex couple.
Ahh the first dance song, the track that will play as you and your newly minted life partner sway back and forth as your friends and family snap photos and ooh and ahh about how perfect you look (and presumably are) together. It's an important moment, and it's something that takes a lot of thought. And unless you're one of those couples that's always had a signature song or one of you is an avid, avid music lover, it's also something that takes a good bit of research. How fast should the tempo be? Should you go with a classic? What about a new hit? What message should it send? What should it actually say?
It's the last point that's, often, the hardest. Say you like a song and it's on your running list of contenders, but once you sit down and actually listen to the lyrics word-by-word, you realize it's not saying what you need it to say. Hey, it happens, and especially so when you have to avoid anything written about the traditional boy-meets-girl romance. To help you out, we asked Aaron Thurston of Lucy Music in Brooklyn to share his top been-there-done-that tips on finding a first dance song that pleases you, your partner, and your crowd that's watching.
Ask your band (or DJ) to get creative.
So, what if your favorite ballad has endless uses of he and she? Your wedding band can rearrange it to fit your first dance — make it shorter, change the lyrics, and even add your names. Using a DJ? Easy: Have her hunt down a gender-appropriate cover.
Choose an all-embracing ballad.
That said, most great love songs are universal, and plenty of classics are gender free and awesome — no edits required. An easy rule to go by? "Try finding one that's about the feeling of love, not the people involved," says Thurston.
And, finally, lose the idea of the 'perfect' song.
If nothing's really speaking to you, remember that the music is just the background to the moment. "There are plenty of great songs that will work, and unlike choosing a partner, I think it's OK to settle," says Thurston.
Still not sure what jam to go with? Here are 10 songs we can get behind.
1. "At Last," by Etta James
2. "All of Me," by John Legend
3. "You Are The Best Thing," by Ray LaMontagne
4. "First Day of My Life," by Bright Eyes
5. "Make You Feel My Love," by Adele
6. "Fly Me To The Moon," by Frank Sinatra
7. "The Nearness of You," by Norah Jones
8. "Thinking Out Loud," by Ed Sheeran
9. "How Long Will I Love You," by Ellie Goulding
10. "Exception," by Paramore