How to nail Bachelorette Party Beauty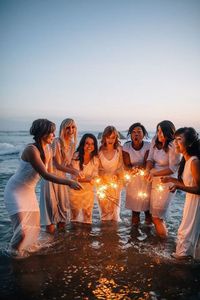 We love a classic bridal beauty look for the wedding day — glowing skin, natural lips, a bit of a cheek flush, and lightly lined eyes. You want to keep the look timeless when you say your "I dos" — those photos are forever after all. But who says you need to play by the rules for your bachelorette party? Now is the perfect time to experiment with all of those beauty looks that didn't make the big day. With the help of our friends at Pixi we've got five tips for nailing your bachelorette party beauty look!
1. Wow With Your Brow
Let's face it, thick, well manicured brows are not going anywhere. And just because you fell victim to over-plucking (we've all been there) doesn't mean you can't fake a full brow with the best of them. Brush up your brows to create the appearance of fullness, than fill in with a brow powder. Finish the whole thing off with some brow gel to keep things in place while you're dancing the night away with your gals.
2. Add a Bold Lip
Nothing says bachelorette party-ready like a bold lip. Leave the classic neutral look for your wedding day, and experiment with bright colors for your last days as a single gal. We're partial to a matte lip in shades of hot pink or coral, but if you're into a more classic look, there's a tinted lip balm with your name on it, just ready to add a stain of color.
3. Glowing Skin Is Always a Good Idea
Whether your eye look is sultry, or you're focusing on the lips, one thing's for certain, great skin goes with everything. Sure, these bach party pics aren't the official wedding portraits, but you still want your skin to stand out — you've got that bridal glow after all. Treat yourself, and your girls, to a little at home spa with a face mask followed by Pixi's famed Glow Tonic (glow is in the name after all). You want the look to be finished, but not heavy, so set everything up with the Flawless Beauty Primer — to hydrate and even tone — and follow that with H20 SkinTint, for natural coverage that exudes a naturally fresh glow.
4. All About the Eyes
This is the time to go big with the eyes. You want to feel sultry, sexy, and mysterious for the bachelorette party beauty look, and the eyes are where to achieve it. If you're going for a bold lip, you can still show off your eyes with a sexy cat eye, or a lightly smokey eye (use a Shadow Pen so it won't be so heavy). Going easier on the lips? Go full force with smokey eyes by using a shadow palette to create a sultry look with similar shades — line the lash line with the darkest color and smudge with a pencil for the most perfect smokey look.
5. Say Goodbye to Dark Circles
Of course you'll stay up all night partying with your gals, but that doesn't mean you have to look like it at the morning after brunch, right? First, take off ALL of that makeup. Second, slather on an eye serum before bed to prevent puffiness before it happens (we love the 24K Eye Elixir from Pixi). Third, water, water, and more water. To fake a good night's sleep the next morning, play with concealer shades to brighten things up. Dab the lightest color on to the under eye area and both the inner and outer corners. Add a shade darker on top of that to blend the under eye area. Finish the whole thing off with some highlighter at the inner corners of the eyes, and brow bone, and voila! Your bachelorette party hijinks are your little secret.