Wedding Items That Aren't Worth The Extra Money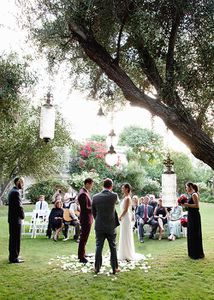 While some wedding items are totally worth the splurge, from hiring that photographer you really love to upgrading your furniture rentals, not every detail is a "must have" — or worth that extra money. When it comes to figuring out what to skip, there are no better experts than planners themselves! After all, their job is to help you best use your budget to create the wedding of your dreams. We turned to top planners from around the country to get the low-down on which wedding items simply aren't worth that extra cash.
Over-The-Top Invitations
"Don't blow your budget on intricate invitations unless money is no object," says Carolee Higashino, president and founder of White Orchid Wedding. "A box full of rose petals, tied with silk ribbon and finished with hand-painted calligraphy is stunning, but once you add on shipping... ca-ching! There are so many beautiful hand-written fonts available, and amazing designers and technology that can help you create this feeling at a fraction of the cost."
RSVP Cards
Thought these were a necessity? Think again! Alicia Falango, founder of Alicia K Designs explains: "Being in San Francisco, many of our clients want to incorporate as much technology as they can. In lieu of an RSVP card, we do online responses. There are a number of great sites that will help streamline the process, and you'll save on both printing and postage. Plus, it makes the process so much easier!"
Favors
"Don't feel pressured to spend money on wedding favors if the items are arbitrary or are products branded with your names and wedding date (which will likely go unused)," says Kristin Banta, founder of Kristin Banta Events. "If you really want to invest in a takeaway, choose something that's relevant to the two of you, like a jar of the jam you can't go a morning without, a bag of your signature coffee blend, or something poignant like a baseball signed by the two of you if you met playing on your company's co-ed team."
Gift and Card Tables
"It's one more table and linen to rent, and isn't a must-have," says Banta. "Instead, enlist servers at the venue or your event production team to take gifts from arriving guests and store them somewhere safe until they can be transported to your hotel room."
Couture Wedding Dresses
Hear us out on this one! If your wedding budget is tight, your wedding dress might be one area where you can save. "The most important aspect of a wedding gown is a phenomenal fit, not whether every bead was applied by hand," says Higashino. "Couture gowns can often be the thing that breaks the budget, so before you hand over your credit card, shop around a bit. There are so many more affordable sources, like BHLDN and J.Crew, that aren't sacrificing an ounce of style." Find an amazing seamstress to make your dress fit like a glove, add some fab accessories, and no one will know whether you spent $1,000 or $10,000. The same goes for bridesmaids dresses! Hit up your favorite ready-to-wear shops and seek out a dress you love at a lower price.
Champagne
"Unless you're huge champagne fans, you can easily forgo the bubbly altogether," Banta advises. "You could offer half pours just for toasts, or completely skip it and have your guests toast with whatever drink they have in hand. They'll likely have already selected their preferred beverage, and won't be inclined to switch — meaning even that sip or two of champagne won't be consumed." Adds Allison Aronne, wedding producer with Fête New York, "If you really want bubbly, opt for a smaller, lesser-known champagne house instead of a brand name, or swap it out with prosecco or another sparkling wine."
A Full Open Bar
"Reexamining the bar is one of the easiest ways to save a few dollars," says Higashino. "Forgo the full bar and instead offer two signature cocktails along with beer and wine. Avoid opening the bar too early (before the ceremony, for example) to save on staffing and the amount that is consumed, as well as limit the possibility of overconsumption." You can also take steps to serve a little less (and your guests will barely notice): "Request that your bartending staff do lighter pours. And skip the shots! These can dramatically increase your consumption fees, since a single shot is much smaller than a full mixed drink."
The Dessert Course
Serving wedding cake and dessert as part of your dinner menu can cause costs to add up. Explains Banta, "Instead of a plated dessert, offer tray-passed selections — including slices of your wedding cake. Guests will love being able to get up and move, and grab dessert whenever the need for sweets strikes. You'll also save on food since you won't be wasting those servings that would be offered to people who don't love sweets, and passed desserts that can be eaten with your fingers instead of a fork will save you on china and silverware rentals."
The Band
While an amazing band will transform your party if it fits into your budget, an equally talented DJ will ring in at a significantly lower cost. "I know it sounds insane, but there are a few benefits to picking the DJ," says Teissia Treynet, founder of Firefly Events. "DJs don't need breaks the same way a band does, and they'll play your favorite songs exactly how you want to hear them. Sure, there are some cheesy DJs out there (and cheesy bands, too!), but there are also some great ones!"