What all guests should remember when choosing their summer wedding outfits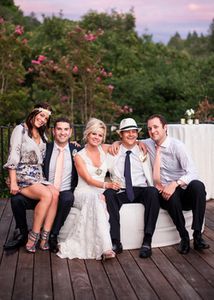 It's summertime, and that means it's wedding season. Almost everybody has somebody else's happy day to attend at some point this summer, and that means it's time to plan your wardrobe. Putting together a wedding outfit can be stressful if you don't think it through ahead of time and make sure you have everything you need.
Try to find out as much about the wedding in advance as you can, so that you know whether you'll be spending the evening in the air conditioning, or outside in dense humidity. It can make a huge difference — for both men and women — in choosing what kinds of fabrics to wear so that you'll be comfortable enough to enjoy both the wedding ceremony and reception.
Keeping that in mind, review these handy guidelines to keep from committing any major summer wedding wardrobe faux pas:
1. Dress Code: Read the invitation carefully and figure out what the bride and groom have requested you wear to their wedding. Brides and grooms spend a lot of money on their wedding photography, and if they've specifically said "Black Tie," they mean it. If they meant "optional," it would have said that. The trend in recent years has been to let guests dress more casually for summer nuptials, but that doesn't mean all weddings are cocktail attire. Semi-formal means a suit or jacket and tie for the gentlemen — nothing less. Keep an eye out for color themes too — it's trendy to ask your guests to all wear a specific color.
2. Shoe Selection: There are flip flops for every occasion now. Whether you think it's a good thing, or a bad thing, we can all agree that different sandals are meant for different activities. Sporty flip flops look distinctly different from thong-style leather sandals. You have to use your best judgement when you choose your outfit — a distinctively fancy party dress can lose its dressy look when paired with flip flops that are better suited for a barbecue. You definitely don't have to wear heels, if you prefer not to, but comfortable doesn't have to mean casual or "serviceable" looking. This goes for kids' outfits, too.
3. Headgear: Hats are trendy, and if you can rock the look, go for it! Especially if you're attending a wedding that's earlier in the day and you need the shade. But unless you're trying to show up in a meme for crazy wedding hats, keep the size under control. Remember that unless you intend to sit in the back row, that fabulous hat will be blocking another guests' view of the wedding ceremony. You can remove it for the ceremony if it won't give you terrible hat hair, but most women aren't willing to take that risk.
4. Color: While you know the rule about not wearing white, don't forget to include ivory, champagne, and any patterns with more white than color. If you have the slightest doubt when you're considering the dress, it probably means it's too white. Keep shopping.