What do we need to tell guest before our religious wedding ceremony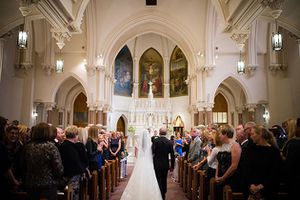 When getting married in a house of worship, the requirements and rules go beyond just what the two of you need to do to ensure your wedding follows the necessary guidelines — there might be rules your guests need to follow, too! So how can you make sure your guests are ready for the religious wedding ceremony you've planned? Here are a few tips from our experts.
The first thing guests will want to know about your religious wedding ceremony is how long it will be. Ceremonies can vary widely, from hours-long Hindu ceremonies and full Catholic masses to something brief and to the point with just a little religious language mixed in. If you're planning something on the longer side, be sure to inform your guests (especially if it will involve a fair amount of standing!) so they can make sure to be comfortable — stilettos aren't always the best choice if you'll be standing and sitting a dozen times over the course of an hour and a half!
You should also let guests know about any dress code requirements, whether that means having their shoulders covered or wearing flats and keeping the heels in their purse to protect the delicate floors of an historic church.
If your house of worship is particularly strict, make sure to have back-up options available for guests the day of your wedding. Set out a basket of light shawls so women in strapless gowns can cover their shoulders. Having a Jewish ceremony? If your synagogue doesn't have yarmulkes available, look into ordering your own — especially for guests who are of a different faith and don't have one of their own. You could pick a simple design, or have them embroidered with your wedding date as a keepsake.
You should also include an outline of the ceremony in your program to help your guests follow along with what's happening. This could include translations of readings in different languages, the words to hymns, or an explanation of traditions with which they might not be familiar.