Which wedding Blowups Real Couples Had During Planning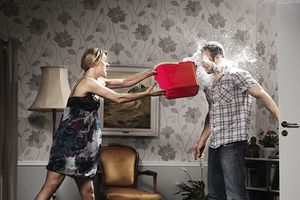 Wedding planning is stressful — sometimes so stressful, in fact, that it can lead happily-in-love couples to argue over the happiest days of their lives. Here, three women share the biggest wedding-related fights they had, plus how they solved them.
1. Fighting over whether children are allowed at the reception
As Anna explains, "We have lots of nieces and nephews and all of them were in the wedding ceremony, but I wanted to have an adults-only reception. The idea was this: the kids would be in the wedding, and then when it was time for the reception, which was a formal sit-down dinner, the kids would go to an adjacent room and have their own kid-friendly dinner. The room was set-up as a playroom with toys and crafts and everything a kid would want, and it was staffed by a bunch of nannies."
Sounds more than reasonable, right? But, says Anna, "my husband's family is very close knit and totally kid-obsessed, and everyone got really pissed off that I didn't want to have the kids running around the reception while people were trying to eat dinner. My then-fiance and I got in this huge fight, and I ended up sobbing in my car and telling him that I wish we'd just eloped."
It all ended well, however. "My husband is a smart man, and he knows that a happy wife means a happy life, so he caved to my wishes and stood up to his family. In the end, it worked out fine; the kids were much happier in the kids area, their parents enjoyed having some time to themselves, and I got my adults-only reception dinner."

2. Fighting over whether to elope or host a full-on wedding
Says Jane, "I've been married before, so when my boyfriend popped the question, I didn't get excited at the thought of wedding planning like most fist-time brides do. Instead, I thought of all the things I felt that I'd wasted money on before, and told my boyfriend we should just elope and save the dough. He didn't like that very much."
As she continues, "I had to realize that just because this was my second wedding didn't mean I should deny my boyfriend his first. So we compromised: We opted for a small ceremony and reception, and we left out some expensive details. We're not going to worry about printing menu cards for every seat, we aren't going to give out favors our guests would just throw out, and we are opting for candles instead of floral centerpieces. And we're both pretty happy. "
3. Fighting over their partner's involvement in wedding planning
As Sarah says, "I don't know if it was the stress of all the planning or what, but I remember exploding on my fiancé when he gave me a very non-committal response about which invitation suite we should pick. The fact that he didn't have an opinion really angered me. It wasn't like I expected him to care about the invitations — I get why he wouldn't — but I felt like I had done so much myself, and this was another thing I would have to choose alone without his help."
She says, "When I finally calmed down, I was able to explain why I felt like I had too much responsibility, and he jumped right in. No, he never did care about those kind of details — but he did handle our entire music list, he gathered our guests' addresses, and did a million other tedious tasks that made me feel relieved."