Why Wedding Flowers Are Absolutely Worth The Splurge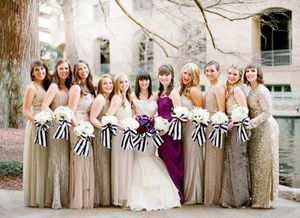 Of course, you can get the look for less, but isn't the real thing always better? We think so! As if you needed another reason to pick peonies for your wedding day, here are five reasons that'll leave you completely convinced as to why those big-budget wedding flowers are really worth every penny.
1. Because you get what you pay for!
When you deal with less expensive flowers, unfortunately you usually find yourself with lower end design work and less attention to detail (although not always), notes Bronwen Smith, lead designer and owner of B Floral. A lot of time you also end up with more greenery, which can be a good or bad thing, depending on the specific look you're after. For this reason, Smith recommends keeping in mind the amount of greenery you'd like, versus what would be unwantedly added because of a misdirected floral budget. "Perhaps it goes without saying that a big investment should always be carefully considered and that, more often than not, high cost equals high quality," adds floral expert Caroline Bailly, owner of L'Atelier Rouge.
2. You have more options.
Like anything else, there are different levels of flowers. And with a bigger budget, you'll not only have a wider variety of florals available to you, but a better selection on the higher end of the spectrum as well, points out Smith.
3. Pricy flowers typically take up more space and make a bigger impact.
Did you know that pricy, higher end flowers usually take up more space than less expensive ones? According to Smith, it's true! "For example, a peony takes up more space in a bridal bouquet as opposed to a carnation, meaning more bang for your buck." Bailly seconds this. "Peonies may prove pricy," she says, "but many of their varietals, especially in peak season, have rather large heads, so the florist needs less of them when putting together arrangements."
4. They're a work of art.
Smith suggests thinking of your floral arrangements and bouquets as a work of art. And the better the art, the higher the cost, right? "These are what people are going to notice on tablescapes, bars, as well as in your wedding photos." If you're investing in the venue, the dress and everything else, you'll want to make sure that all of that investment is captured, stresses Bailly. "Flowers help create and shape the feel of the reception room, the wedding altar and even your bridal portraits."
5. It's your wedding, and you deserve to treat yourself!
Set the tone for your marriage and beautiful things to come with an ambiance that reflects the relationship you have and want, says Smith. "It's a once in a lifetime chance to be over the top." So go ahead and splurge and treat yourself to the best of the best!
Remember: A seasoned florist is worth her weight in gold!!!
Almost anyone can source beautiful, high quality flowers, but not everyone can arrange them in a beautiful, high quality way, warns Bailly. "Many flowers that come at higher price points are absolutely worth the extra expense, provided that they're being designed in a manner that truly highlights their special qualities and not just added to a mass of flowers where what makes them meaningful might be camouflaged.