10 Items Couples Forget to Register For—But Shouldn't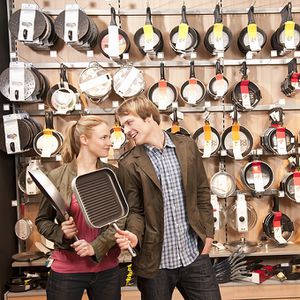 Whether you've already registered or have yet to begin, you'll want to add these often overlooked items to your list.
By: Lauren Frankfort
Even if you're mentally prepared to sift through china patterns, registering for everything you'll need for the rest of your life—the fun stuff and the essentials—can be overwhelming. With all of that pressure, you're bound to forget a towel or two.
To make sure you cover all of your bases, we consulted Kristy Welker, a Target spokesperson and an authority on wedding registries. Whether it's a digital camera to record your memories or something as simple as a gift card, she knows exactly what you'll need. Here are the top ten things you and your future hubby shouldn't overlook.
Barware
"Wine glasses and drinking glasses appear on most registry lists, but accessories like pitchers, cocktail shakers and decanters are often overlooked."
Items for Hobbies
"Love being outdoors? Register for a tent for a camping adventure or for bikes to hit the trails. Love the latest movies? Register for DVDs so you'll have a collection of favorites on hand for nights spent at home."
Beach Towels
"Going on a tropical honeymoon? Register for some fun beach towels to take on your unforgettable vacation."
Digital Camera
"You'll be creating lots of memories in the years ahead. Why not ask for a new digital camera or camcorder to record all of the great moments?"
Picture Frames
"You'll want beautiful frames to display your fabulous wedding and honeymoon photos. Don't forget to add a few of your favorites to your registry."