10 Ways To Bring an Outdoor Wedding Look Indoors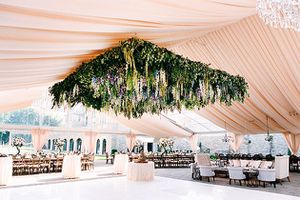 Always dreamed of having an outdoor wedding but now that your big day is getting closer and closer you're becoming scared of the great outdoors? Whether it's the fear of a rained out celebration or you just don't want your guests to be overheated, there are still ways to make an indoor wedding feel like it's rooted outdoors.
Here are 10 simple ways to make your indoor wedding feel like it's outdoors.
1. Hang Stars
Want a fun outdoorsy feel? Hang paper stars from the ceiling, especially above the dance floor. It'll make your guests feel as if they are slow dancing under a starry night.
2. String Twinkle Lights
Lighting is key for establishing an outdoorsy vibe. Use twinkle lights and string them around the walls of the venue and over the dance floor.
3. Use Wooden Chairs
Incorporate old rustic wood wherever you can. Whether that's finding table bases that are made out of trees or using older wooden chairs for your ceremony and reception.
4. Skip the Roses
Instead of having centerpieces that are filled with brightly colored roses, use different colored branches with tiny flowers on the ends for a natural feel.

5. Go With a Floral Chandelier
Want to spice up the venue with a pop of color? Instead of having flowers as centerpieces, use them as chandeliers that you hang above each table or behind you during the ceremony.
6. Bring Trees Inside
For a "I'm getting married in a forest vibe," line the aisle with candles and a few indoor trees as accents.
7. Switch up the Bouquets
Instead of having plump and carefully designed bouquets, use freshly picked wild flowers. Don't bunch together a ton of them, but just a few will make the look feel more natural.
8. Pick a Place With Giant Windows
Love the outdoors but don't want to have your wedding outside? That's okay. Pick an indoor venue with large windows so that your guests have a great view while spending the night under air conditioning.
9. Create a Moss Wall
Take one wall of the venue and cover it with moss and flowers. It'll be a great picture backdrop and bring nature to your indoor venue.
10. Have a Natural Color Scheme
Pick neutral colors and use lots of green accents whenever you can for an outdoorsy and woodsy look to your indoor wedding.