4 Things Grooms Can't Forget When Planning The Bachelor Party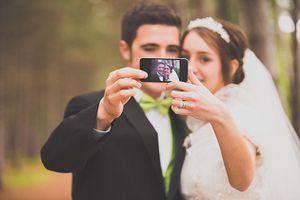 While guys may take a lot less planning and way less time to get ready (have you seen a groom's wedding day schedule?), there are still details they'll need to address, whether they like it or not. And a lot of those details come up when they're planning the bachelor party. From Las Vegas to the lake house, here are four things grooms (and their groomsmen) can't forget when they're planning their last hurrah as a single man.
Timing
The first big thing to consider is timing. Sure, it might be easier to have a guys' night out a day or two before the wedding, but why risk a hangover at the ceremony? Instead, take this as an opportunity to see your groomsmen more than once before you head down the aisle.
Cost
You'll also want to be sensitive of how much money your bros are shelling out for your wedding. Sure, being a bridesmaid is expensive, but groomsmen often spend a lot more in the long run. Why? It turns out tuxedo rentals often cost more than buying a bridesmaid's dress (that she gets to keep at the end of the night!), and guys tend to spend more on the bachelor party, from drinks to food to entertainment (of both the PG and R variety). So when you're planning, consider what your groomsmen will be able to afford. Don't plan a week in Cancun if it's going to make it hard for your friends to afford to fly to your wedding a few months later. Instead, pick something local that everyone will still love, without overdrawing their checking account.
The Guest List
Of course all the groomsmen are invited, but if you're planning to add other people to the festivities, think about who will get along with everyone else — as well as who will be fun to have around. Sure, you really should invite your fiancée's brother, but if he's under-age you might want to save your in-law bonding for another time.
Keep the Stories on the DL
And of course, no matter what you've planned, remember that some of your stories and jokes are best left to the bachelor party, and shouldn't be rehashed at the rehearsal dinner (or even worse, during the best man's toast). Know where to draw the line as far as your behavior, as well as where stories go from "fun to share" to "better left for just the guys."