8 Ideas For Bridal Party Photos That Haven't Been Done To Death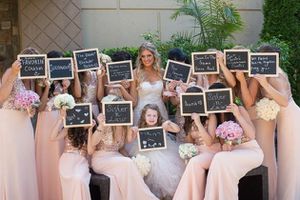 Professional photos are one of the only things that lasts after the final dance on your wedding day. So you'll want to capture some snaps that are creative, original, and will make you smile for years to come. We asked some professionals in the industry for their suggestions for scoring outside-of-the-box bridal party pics. Here's what they had to say.
1. Dance to the music.
Brian Marcus of Fred Marcus Studios suggests creating a high-energy atmosphere with some upbeat tunes. Playing the bride's favorite songs is a surefire way to get everyone dancing and laughing.
2. Spell it out.
Steal the chalkboard signs from your photo booth and scribble fun sayings for your bridal party pics, says Marcus. Inside jokes between the friend group, silly nicknames, or a heartfelt wish for the bride from each member of the bridal party are great inspiration.
3. Prop yourselves up.
Brides and their maids can show off some personality with oddball props or funny, custom t-shirts with everyone's nicknames or the wedding hashtag or slogan, says Marcus.
4. Get sauced.
Erin Bhoorasingh of Grand Lens Photography has seen brides playfully sit on the bar tabletop "drinking" while the rest of the bridal party is "passed out" around her, imitating a hilarious post-reception scenario.
5. Be VIP.
Groomsmen donning black sunglasses and standing by you clad in your gorgeous gown give off the vibe of being bodyguards, says Bhoorasingh. Then, just have your bridesmaids act as crazed fans by trying to reach over the groomsmen to get their hands on you as you coolly walk by.
6. Go retro for a moment.
Remember the opening credits for "The Brady Bunch"? Make it work for your bridal party by taking individual pictures of your bridesmaids looking to the left, right, up, or down with you in the middle. Then put them together in a square-shaped collage with you in the middle, Bhoorasingh suggests.
7. Cover up just for fun.
Another cultural throwback that lends an interesting visual to bridal party shots is masquerade masks. For this one, you can join the bridal and groom's parties and pose everyone as couples surrounding the bride and groom in different fashions, Bhoorasingh says.
8. Snag some one-on-one time.
Ani Keshishian of Anoush Banquet Halls & Catering thinks that personalizing photos with each individual bridesmaid is a great way to capture the day. Have each of your maids carry or wear something that reminds you of how you met or a particularly amazing time you had together that you'll never forget. For your very best friend from college, have her hold a sign with the letters of your alma mater or your sorority. If you played high school sports with one of your bridesmaids, have her throw a volleyball in the air mid-pic. If you jetted off to Paris for a memorable trip with your little sister, have her carry a miniature Eiffel Tower or wear a beret.