Ask Yourself:What Do I want My Guests To Remember Most About My Weddingg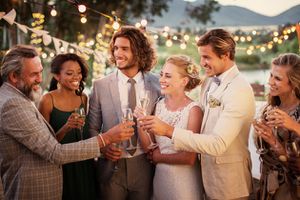 Ask yourself this: What do I want my guests to remember most about my wedding?
What immediately comes to mind? Do you want your guests to be blown away by the venue? The power of the ceremony? The romance of your relationship? The food and wine? The warmth between your families? The formality and elegance? The music and dancing? How fabulous you look?
What do you want your guests to remember most about your wedding? It's a simple question, but asking yourself that can clarify where to put your time, energy, effort and, yes, money. You're not a generic bride. What's most important to you may be the bottom of the list for another.
So get clear on what you want your guests to remember and put your emphasis and efforts there. Is writing your vows and sharing your relationship the epitome for you? Then don't get caught in the weeds of gift bags, which are expensive and time-consuming to create and produce. Instead, put your heart, time and soul into the ceremony, and make it spectacular.
If food and wine's your thing and you really want your guests to have an opulent and unique foodie experience at your wedding, go crazy with the tastings and pairings. Conversely, if you find wedding cake ho-hum, skip the cake tasting altogether, and go for a simple, classic cake. Instead of spending many, many hours ordering a cake you really don't care about, use that time working on something that might mean more to you, and that you want your guests to remember.
As you head into wedding planning, keep what you want your guests to remember most about your wedding top of mind — and give that your energy and efforts — and your guests will experience what you want them to experience.