The 5 Items You Must Check Off Your Wedding To-do list Before You Get Engaged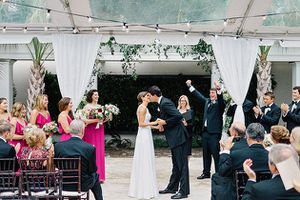 If you were the little girl who's dreamed of her wedding day since she began playing dress up in her mother's gown, then you might be biting at the bit to begin planning even before you have a ring. And while it sounds a tad crazy — and more than a little wedding obsessed — getting a jump start on planning this particular party is actually pretty smart, our experts say.
"Popular wedding months, including May, June, September, and October, book up fast," says Jaclyn Fisher, owner of Two Little Birds Planning in Philadelphia. "So if a bride is set on getting hitched in one of those months and doesn't want a long engagement, it's OK to start the preliminary planning before he's put a ring on it."
Plus, she adds, "proper planning can relieve stress and save money, so checking off a few wedding to-dos pre-proposal can be beneficial for couples." And here, according to our experts, are the items you can check off that list before you get engaged.
1. Gather your favorite couple photos.
After he's popped the question, you may need a striking photo of you two, stat, for an engagement announcement or, if you don't plan to have a formal engagement session, your wedding website and save the date cards. "Often times couples get engaged and then realize they don't have any good photos of themselves, or none that are quickly accessible," says Sarah Glick, wedding planner at Brilliant Event Planning in New York City. "Try to start gathering your favorites together early. It will make website construction and save the dates that much easier."
2. Make your guest list.
First comes love, then comes the guest list. Says Fisher, "Drafting a preliminary guest list is one of the first things a couple should do when they begin planning their wedding — pre- or post-proposal. So start thinking about whether you'll be inviting all 15 of your coworkers with dates, or just your work BFF. Guest counts can add up quickly, and the number of guests will ultimately determine the budget and venue."
See More: 15 Things To Do the Week Before Your Wedding
3. Collect those guests' addresses.
Now that you have an idea who you'd like to attend your wedding one day, it's time to do the tedious work of gathering their addresses. "The biggest barrier to getting your save the dates and invitations in the mail are your addresses," says Glick. "Start updating your address book now and that will make the process go more smoothly for you later on."
4. Establish your budget.
You're having open-and-honest money talks anyway, right? So add talking over what you'd like to spend on a future wedding to the list of money topics you'll tackle.
Start with: Will you be paying for it on your own? What's the maximum amount you feel comfortable spending? Will others be contributing? "Having this conversation early will ensure that your planning will be off to a smooth start," says Fisher.
5. Determine your wedding style.
You've kept a secret wedding Pinterest board for years. Now, it's time to scan it to see what you really love and what could resonate at your very own fete. Or, says Fisher, "close your eyes and think about what your dream wedding looks like. Think about the season, time of day, type of venue, and overall feel. Then try to come up with words to describe your dream day. Exploring this exercise with your soon to be fiancé is a great way to get on the same page about your picture perfect wedding."
There's at least one caveat, of course, to pre-planning your wedding before you've become officially engaged: "While there are always exceptions, couples should typically avoid signing contracts and making any final decisions until they are actually engaged," advises Fisher. "They should use the pre-proposal planning time to brainstorm and research."