The 7 Worst Wedding Planning Tips Every Bride Should Avoid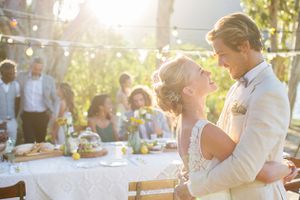 When you're engaged and jumping on the wedding planning train, advice will suddenly start to surround you. Every article you read online will be about wedding dos and don'ts and every friend and family member will try to feed you tips and tricks that they think you absolutely need to hear before it's your turn to walk down the aisle. So when all of this advice is coming into your life, sometimes unwarranted, it's important to recognize what advice is actually helpful and what advice should be, well, kicked to the curb. Want to know to spot terrible advice? Well, here are seven wedding planning tips you should 100% avoid.
1. Skimp on the Food
Past brides will try to tell you that nobody eats the food so don't go above and beyond with premium food packages that offer a selection of appetizers and main courses. But the truth is, the food is one of the main things guests remember about your wedding. So, if it's within your budget, try to make sure there are several food options, as well as something that even the pickiest eaters will want to devour.
2. Improv Your Vows
Nope! Don't do this. Spend quality time writing your vows and even memorizing them if you can. You'll be so chocked up by nerves and emotion on the day of your wedding that you may not be able to speak from the heart off the cuff.
3. Wait for Your Wedding Dress to Go on Sale
Think the longer you wait to buy your wedding dress the cheaper it will be? Don't wait for flash sales or a coupon to arrive in the mail. The longer you wait to buy the dress, the more expensive alterations may be if you need it in a rush. Plus you'll have the added stress of waiting until the last-minute.
4. Skip the Open Bar and Do BYOB
Depending on your crowd, expecting guests to bring their own booze can be a problem waiting to happen. If you're not able to afford an open bar, consider doing an open bar for an hour or two and then switching to a cash bar to save a bit of money.
5. Don't Compare Your Wedding
The best thing you can do is compare what you want your wedding to be and look like to other weddings. You'll get ideas of things you may never would have thought of on your own and you may change your mind about things after seeing other people do it first.
6. Randomize the Seating Assignments
It may sound like a good idea at first and it will save you a ton of time and hassle trying to figure out where everyone should sit, but on the wedding day, it might be quite awkward if your Aunt Sue is sitting next to your sorority sisters from college.
7. DIY as Much as You Can
You may think you'll save a ton of cash DIY'ing your whole wedding, but you'll start to notice that you're spending a lot more time on arts and crafts. You also may end up spending more than you think on the bits and pieces, totally counteracting paying someone to help do your decorations for you. Remember: Time is money.