The Guide To Choosing a Honeymoon Location You'll Both Love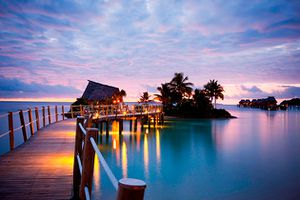 Your honeymoon is, arguably, the most important trip you'll take with your new spouse. It may be the first trip you've even taken together, and it just might be the biggest, most expensive trip the two of you will ever take. And that means that you might be putting a lot of pressure on yourselves to make it perfect. But before you pack your bags and board the plane, you need to figure out where to go. Whether you dream of white sand beaches or a luxury high-rise in the city, here's how to narrow down the great big world of options and decide on a destination that will make both of your honeymoon dreams come true.
Set a budget
In a perfect world there would be no need to set a budget for the honeymoon (or the wedding), but the reality is that most couples have only a certain amount they can allocate for the trip. Whether that's $500 or $5,000 or $15,000, figure out the max you are comfortable spending so that you're both on the same page about what's realistic. Neither person wants to find out that while they were expecting an over-water-bungalow-in-Fiji budget, the other is more comfortable budgeting for an Airbnb weekend.
Make a list of priorities
Maybe one of you wants beach relaxation but the other prefers a bustling city vibe. Perhaps one of you wants to relax in luxury and the other wants to go on an adventure. Even if you and your betrothed can agree on the kind of trip you want to have, sometimes it's hard to find a place that ticks every box. Independently list out each of your top ten "musts" and see how they match up—do you both want the same kind of trip, or are your wishlists totally at odds? Together, narrow them down to a few of your top priorities (if they aren't the same, give each person a set number of items on the list), which will help you start to narrow down the destinations to those that tick all, or the majority, of the boxes.
Want white sand beaches, clear water, hot weather, and a unique local culture that's no more than a five-hour flight from the east coast? The Caribbean or Mexico is likely your best best. Prefer amazing food and wine, charming small towns, and a day or two on a beautiful coastline? In that case, someone in Europe (France, Italy, Spain, Greece....) might fit the bill. Want to go on a once-in-a-lifetime trip to somewhere totally exotic (and just about as far from home as you can get)? Perhaps a safari in South Africa, a cruise to Antarctica, or a road trip across Mongolia is more your speed.
Once you know your priorities, it's easier to find places that meet them.

Think about how you want to spend your days
Couples often get hung up on the idea of a particular place. If you have your heart set on a destination or resort but you aren't sure if you can swing it (due to time or budget), go back to your priority list, and think about how you want to spend your days.
Close your eyes and picture yourself on your honeymoon. Envision your perfect day. Are you wandering the cobbled streets of a small village, lounging by the infinity pool, or hiking along a rugged coastline? At the end of the day, are you eating dinner at a local restaurant, or dining by candlelight on your own private balcony? Is everything you need available onsite or from the resort staff so that you never have to leave the property, or do you want to venture out on car or by foot to explore your surroundings?
Thinking about exactly how you want to spend your days will help you and your spouse-to-be refine your choices a bit more, and you may find that things you thought were important aren't quite as vital—or, on the contrary, that things you were ambivalent about are actually crucial to your enjoyment of the trip.
Consider the time of year, flight time and ticket cost
Once you have your choices narrowed down to a few options, consider the time of year, how long it will take you to get there, and the cost of your flights. If you're looking at, for example, Greece, Thailand, and Hawaii for a beach vacation, and you're planning to go in October, you might want to select Hawaii, as by October the temperatures in Greece will be cooler and many of the islands have limited service, and in Thailand, it will be rainy season (though this would make it less expensive).
Think about how much time you want to spend flying as well. If you have limited time off, you may want to choose a location that's served by a direct flight so that you maximize your time in the destination. And think about how big a chunk the flight will take out of your overall budget. A flight to Southeast Asia will likely be more expensive than a flight to Mexico, but you can stay in relative luxury for much less money in places like Phuket and Bali vs Cancun or Puerta Vallarta. But if you only have five days, you'll be able to spend more time enjoying yourself in Mexico vs wasting a few days flying to Thailand.
Compromise
Ideally, you and your future spouse are on the same page when it comes to your dream honeymoon; if not, consider it the first of many compromises you'll make in your marriage. If you're itching to explore the futuristic fashions of Tokyo but your betrothed wants the lush tranquility of Maui, consider a stopover in Hawaii enroute to Japan. If your fiancé prefers adventure activities but you just want to lay on the beach, pick a place that offers both and make a patch to alternate days of activity and relaxation. In the end, you'll have a great time and you'll both make the other happy—and what better way is there to start your new life together?