The Ultimate Guide To Rehearsal Dinner Etiquette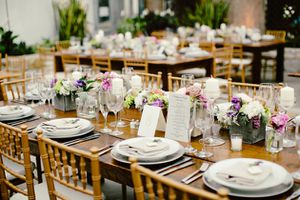 Just when you think you've finished having to tread carefully to avoid any etiquette faux pas throughout wedding planning, it's time to plan the rehearsal dinner. While certainly not as time consuming or stressful to plan as your wedding itself, the rehearsal dinner is an important part of your wedding weekend (should you choose to have one) and there are some questions that are bound to pop up. Check out our rehearsal dinner etiquette guide to help navigate your planning for the best possible celebration before the big celebration.
Who Pays?
Traditionally speaking, general etiquette suggests that the groom's side organizes and pays for the rehearsal dinner, under the traditional assumption that the bride's family is fronting the wedding. We all know that modern times, finances, etiquette and tradition have expanded and changed, but for super traditional couples — this is the general rule of thumb. For all couples, a general rule is to have an open and honest discussion, similar to that of who's footing the wedding bill, about your plans, budget, and hopes with both families to ensure a drama and stress-free rehearsal dinner.
How To Properly Invite Guests
All invited guests need to be formally invited, whether it be via a traditional invitation, e-vite or phone call. Formal, sit down dinners at fancy banquet facilities or catering halls typically warrant a formal invitation via snail mail, whereas emails or phone calls will do for more casual, laid back gatherings.
As with any organize event, invited guests should be informed 6-8 weeks prior to the rehearsal dinner date, for planning purposes. Rehearsal dinner guest lists cannot be assumed, as some couples opt for immediate family only, and others invite nearly half their wedding guest list. Let your guests know in a timely and considerate fashion. As far as who to invite, check out our guest-by-guest guide here.
When Should It Be?
For traditional Saturday weddings, rehearsal dinners are most often hosted on the wedding's eve, directly after rehearsing the wedding ceremony (couples that don't have an actual rehearsal often opt to still celebrate with a dinner or gathering). For the increasingly popular Sunday or Friday weddings dinners can be hosted the Thursday, Friday or Saturday prior. In regards to timing, plan so that all guests (and the soon-to-be bride and groom, of course) don't have too late of an evening. After all, the main event is yet to come!
Where Should it Be?
Proximity is key. Aim to have your rehearsal dinner celebration within 20 or so miles of the hotel where you're guests are staying, and/or nearby the actual rehearsal venue where your ceremony is taking place. Keep in mind that your guests are traveling to celebrate your weekend, so they shouldn't be expected to travel much more than 45 minutes to your rehearsal dinner. Wherever possible, it's always appreciated to provide clear directions, or even transportation.