The Ultimate Romantic Honeymoon In Africa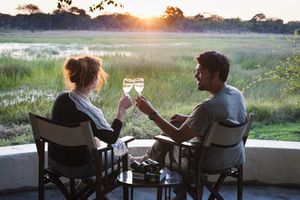 Looking to add some Out of Africa romance to your honeymoon plans? An African honeymoon is easier to achieve, more affordable, and possibly even more exciting than you ever thought possible. Here's an easy intro to Africa itinerary to fulfill your honeymoon dreams:
Cape Town
For an intro to everything that's great about Africa, start in Cape Town. With two oceans that meet at its coast, two mountain ranges embracing it, and Table Mountain stunningly framing the city, there are few international destinations that such an impact when you arrive as this cosmopolitan city does. Stay at the Ellerman House for stunning views over the beaches of exclusive Bantry Bay and easy access to the natural beauty of Cape Point, scenic views from Table Mountain, the tottering Cape penguins at Boulders Beach, and the extensive flowering acres of Kirstenbosch Gardens. Made with honeymooners in mind, the 13 plush suites and 2 multi-room villas here all look out over the sparkling coast and come stocked with complimentary wine and snacks to enjoy as you relax and take in the views. The jewel-box restaurant, excellent wine cellar, sybaritic spa, and impressive art gallery are all exclusively for use by hotel guests. Have a special menu item in mind? Chefs are on duty 24-hours a day to make your dining dreams come true. Want a private wine tasting? The sommelier will create a tasting experience in the award-winning wine cellar, and even set up a tour of the neighboring wine areas (just an hour away).
Speaking of wine, the Winelands around Cape Town are what you'd get if you crossed Napa with Burgundy, France — expansive rolling green hills, incredible food, fine wine, gorgeous places to stay, all with a bit of French accent from the Huguenots who originally cultivated the vineyards. The towns of Paarl and Stellenbosch are stunning and worth a visit, but base yourself in neighboring Franschhoek for lodging and dining to take your breath away. Leeu Estates is the newest hot spot to stay in the Winelands, with views over the vineyards and valleys, a modern spa that offers couples massages, and a private wine cellar. For a dinner to remember, book a table at sister property The Tasting Room, for 10 innovative courses and matching wines from the area's top cellars.
Honeymoon bonus: The exchange rate is so strong for Americans that you'll pay about a quarter of what you would in a US city for similar multi-course feasts and 5-star lodging throughout South Africa.
Victoria Falls
What is it about rushing water that makes a heart flutter? The same way Niagara Falls made couples swoon at the turn of the century, Victoria Falls delivers epic, pounding tides of water that make modern couples want to get even closer to one another. (It's also one of the 7 Wonders of the World, so you can cross that off your bucket list). It's not just about the cascading waters here—although they are a swirling, thundering, breathtakingly beautiful sight—but also about the heart-racing activities that allow couples to see the incredible scenery from every angle. Jump into married life, literally, with a bungee jump over the Zambezi River. See the falls over the air from a glass-bottomed helicopter or, for true adrenaline junkies, from a microlight flight (picture a hang glider with a lawnmower motor). Go white water rafting over level 5 rapids. Too much danger for a honeymoon? There's luxury on hand at Toka Leya, a luxe lodge on the Zambian side of the Falls. Here, you can sit on the deck of your private chalet and watch the waters flow by while enjoying complimentary wine and gourmet meals, or get a beauty treatment in the riverside spa, no safety harness required.
Honeymoon Bonus: Some of the few remaining white rhino in all of Africa are in a protected reserve near Toka Leya. The camp can arrange a safari to see these gentle, endangered beasts.
Safari, So Good
Of course, if you've come all the way to Africa, you probably want to spend part of your honeymoon on an authentic safari. The romance of the bush is a true aphrodisiac (if you haven't seen Out of Africa yet, add it to your viewing list for the flight—there's a reason it's been the romance standard for three decades). Just a short 20-minute private flight from the Falls, Wilderness' Safari's Linkwasha lodge in Zimbabwe's Hwange National Park is a perfect safari destination for couples. Although you're surrounded by vast plains filled with wild animals—including prides of lion, large herds of buffalo, elephant, zebra, giraffe, and impala—there's an emphasis on comfort here in sleek accommodations housed in modern, glass-enclosed chalets; perfect for couples who want style on their safari. Stellar service is part of the package as well. Expect to be greeted with scented warm towels and snifters of sherry after a cold night drive as well as cocktails and canapes under the stars every night around a roaring fire before a multi-course dinner in the lodge.
Honeymoon bonus: Request tent 6 — it's the only one with both a freestanding tub and fireplace, but it's called the "family suite" since it has two rooms. Don't let the name fool you: this is the room you want for romance.
Practicalities
A trip to Africa usually involves a plethora of details, and many lodges, such as those in the Wilderness Safaris family, don't allow individuals to book on their own. So an African travel expert is in order. Julian Harrison of Premier Tours in Philadelphia has planned African honeymoons and safaris everywhere from the Skeleton Coast of Namibia to the wild plains of the Serengeti and assisted us with our honeymoon itinerary.
South African Air offers the only non-stop flights from the United States to South Africa (put up your feet in NYC, close your eyes, and arrive in Johannesburg 15 hours later). They've won the SkyTrax award for service 14 consecutive — so you know you're in good hands.