Exactly How To Determine Your Wedding Processional Order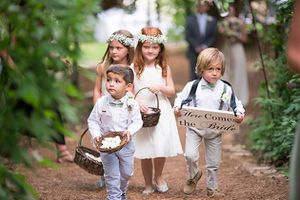 Creating an intimate wedding ceremony is the best way to kick-off a romantic and celebratory wedding experience. It's not every day we get to showcase and put the spotlight on a positive life experience with handpicked music, gorgeous flowers, and a grand entrance that makes all of the wedding guests jump out of their seats. Planning out your wedding processional is also a great way to honor special guests, family members, and friends who have contributed and supported you and your fiancé on one of the biggest days of your life.
So if you're wondering where to begin or even how to map out who should walk down the aisle and when, here are four tips to help you figure out your wedding processional.
1. Start With an Outline
Kick off the process by listing out everyone you want to have as part of the processional. You can include grandparents, parents, the wedding party, ring bearers, and flower girls.
2. Decide Who You Want to Take a Seat
You don't have to have everyone who walks down the aisle stand up with you during the whole ceremony. If you'd like certain honored guests to sit down, have them walk down the aisle. Traditionally, these people are usually the grandparents and sometimes even you and your fiancé's parents as well.
3. Match the Wedding Party
After the honored guests make their way down the aisle, you'll want to send your wedding party down. You can either choose to have the groomsmen walk alone first and then the bridesmaids, or pair them up and have them walk down together. The flower girl and ring bearer will head down right after.
4. It's Your Time to Shine
As the bride, you'll walk down last. It's up to you if you'd like to walk solo, with one parent, or two. You can even do a combo where you walk solo for a little and then meet your parents in the middle of the aisle. Either way, you'll be taking a lot of deep breaths from all the anticipation that will lead up to you closing out the processional, in true wedding style.