Have you seen the celebs as the bridesmaid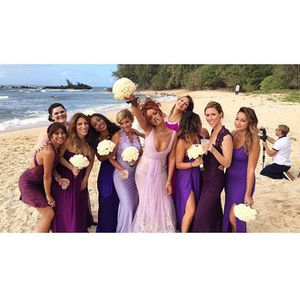 Taylor Swift! Lady Gaga! Beyoncé! Find out which celebs have taken a backseat for their besties' wedding days.
Always the bride, never the bridesmaid? That's not always the case for some of Hollywood's biggest stars! Celebrities like Taylor Swift, Rihanna, and Jennifer Lawrence usually steal the show wherever they go, but even they have stepped out of the spotlight for a very important reason: to serve as a bridesmaid in a friend or family member's wedding!
We're so used to seeing our favorite stars demand attention as they hit the red carpet in stylist-selected couture gowns that spotting a photo of, say, the typically head-turning Cara Delevingne donning a demure white bridesmaids dress feels almost unnatural. And yet, it happens all the time.
For example? Taylor Swift may be a Grammy Queen and red carpet darling, but when her hometown BFF called her in to serve as maid of honor, she was there in a heartbeat. (And she gave one heck of an MOH, we might add!)
And as outrageous as her day-to-day attire and on-stage costumes can be, Lady Gaga has served as at least two friends' bridesmaids; both times, she's excitedly snapped meaningful messages about seeing her besties get married and she's worn the same Twobirds gown we've seen in dozens of real weddings. Turns out it's really true that stars are just like us!
From Lena Dunham and Beyoncé to Lauren Conrad, there are some super sweet celebrity bridesmaid stories, and their style might even inspire you for your big day. Click through and read about some of our favorite examples.