The 4 Signs You're Spending Way Too Much Money On Your Wedding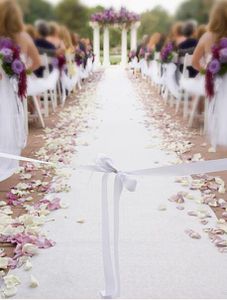 Bills, bills, bills. For even the most budget-savvy bride, they'll pile up when it comes to paying for a wedding, making you question if you've spent too much on (one) big day.
"Since people rarely spend so much money on one thing, couples often experience sticker shock and worry that they've spent too much money on their wedding," commiserates Jaclyn Fisher, owner of Two Little Birds Planning in Philadelphia.
But there are ways to know for sure. Here are four signs you've spent way too much on your wedding day.
1. You're adding items to your budget that weren't there to begin with.
"Spending money on things that weren't originally in your budget is a surefire way to spend too much on your wedding," Fisher says. You know, like that fancy monogram you'll have flashing on the dance floor. "If there isn't an extras category in your wedding budget to account for these last minute additions, it's important to redo your budget, taking money from other categories to make up for the unexpected costs," Fisher advises.
2. You feel guilty.
"Did you fall in love with the Rolls Royce of wedding dresses and your money just fell right out of your wallet at the bridal salon?" asks Amy Nichols, owner of Amy Nichols Special Events and cofounder of The Poppy Group. "Now you're feeling an overwhelming sense of guilt that maybe you didn't make the right choice." Yep, you probably splurged when you should have saved. But it's not the end of the world. "Be sure you plan ahead before going to your next vendor or venue appointment," Nichols advises. "Know how much you're allowed to spend on your shoes or flowers before you begin shopping and you'll be less likely to fall in love with something you can't afford."

3. You're having nightmares about your wedding bills.
Severe anxiety is a red flag that you've gone overboard with your wedding budget. "While a wave of uneasiness is manageable, constant anxiety about your spending isn't healthy," says Fisher. "It's normal to dream about your wedding, but if it's a nightmare and the reoccurring theme is your spending, it's time to talk to your partner about the budget."
4. Your credit card bill sent you into shock.
Wedding bills are more than what's in your budget. "It's so easy to just swipe that card when it comes to wedding-related expenses, not to mention how much you'll spend on other things like eating out, organizational tools, traveling to showers, and of course new outfits for every occasion," says Nichols. "If the first credit card bill after you get the ring shocks you, then you know you should reign in your spending a bit throughout the planning process. Try to write down any expense as they relate to the wedding, or use an online budget tracker to help you keep a good handle on what's being spent on the wedding on a day-to-day basis."
More wonderful content in http://www.abcdress.co.uk