The Maid Of Honor's Guide to Avoid Going Broke Before The Wedding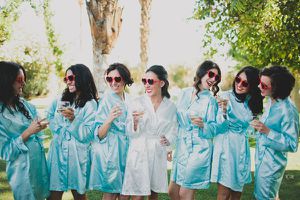 Saying "I do" to a maid of honor role is truly something worthy of a popped bottle of champagne and a night of celebration with you and the bride-to-be. It's an honor to be chosen as the bride's go-to gal pal and personal party planner throughout the wedding adventure. As her maid of honor you can count on being the bridal party's team captain, social director and at times, even their peacekeeper.
Taking on this giant role is infamous for a few reasons. First, it can be extra time consuming — it's not uncommon for MOHs to feel as if it's somewhat of a part-time job, albeit a fun one. You're required to be there for your almost-married friend through everything from planning obstacles to emotional roller coasters, all the while maintaining the role as the voice of reason AND continuing to be her best friend. It's a tough balancing act but, in the end, totally worth it to stand next to your BFF on her big day.
The other reason the maid of honor role gets some heat? It can be really expensive.
As the bride's right-hand women, you're in charge of throwing some large-scale pre-wedding events — the bachelorette party, the bridal shower, maybe even an engagement brunch — as well as picking up the tab for decorations and other miscellaneous items here and there before the wedding takes place. You'll also have to buy the bridesmaid dress the bride carefully picked out for you — plus alterations, shoes, jewelry, etc. — and then, carefully pick out a gift or two for her off the wedding registry.
So if you're jumping into being a maid of honor and starting to scratch your head while looking at your salary, rent, and account balances, and wondering how in the world you can afford this role of a lifetime, we've got you covered. Take a look at these genius ways to save money as a maid of honor, so that you (or your savings account) don't break out into hives when you look at your next credit card statement.
1. Set a Budget
Before diving into the details and pressing the purchase button on items, crafts, and even travel plans for the bachelorette party, take a step back and create a budget. Plan out how much money you're able to spend on your MOH role and then pinky-promise yourself that you'll stick to that amount throughout the wedding adventure.
2. Chat With the Bride Immediately
Right after the bride gets engaged, she may head straight into planning mode, coming up with bold and gigantic ideas of what she wants and when she wants it. Be sure to lend your opinion from the start and keep her grounded when it comes to plans that could potentially eat up your personal funds. Give her a heads up about the budget you've already set and let her know any and limitations from the get go.
3. Then Loop in the Bridal Party
After you've stet your budget and chatted with the bride, have a talk with the rest of the bridal party about how much money they will have to spend on the wedding adventure. Give them a heads up so they can plan ahead and start saving ASAP if they need to.
4. Divide and Conquer
Expenses will start to explode when and if you're the only one getting your fingers dirty in the pre-wedding planning. Include the entire bridal party and delegate tasks to them. If those tasks cost money, chat with all the bridesmaids to see what they are willing to contribute.
5. Buy in Bulk
You'll start to see that you'll need a lot of the same items for the bachelorette party and the bridal shower. Instead of buying things one at a time, buy in bulk to save some cash.
6. Borrow What's Been Used
Skip out on buying décor or bachelorette party items by seeing what you can borrow from past MOH friends or bridesmaids. You can even check out websites that sell used wedding items and see if you can score any good deals on there.
7. Get Down & Dirty With DIY
Pull out your hot glue gun and your bedazzling kit from middle school. Jumping on the DIY bandwagon will often save you a ton of money. Don't buy what you can make at home, in a few hours, with a bottle of wine by your side.
8. Plan Ahead — and Book Travel ASAP
Scope out any travel plans (for bachelorette, the wedding, or otherwise) early — you'll have a better chance to find a cheap flight and a good hotel discount before last-minute price hikes kick in.