3 Things You Must Remember When Planning A Tropical Summer Wedding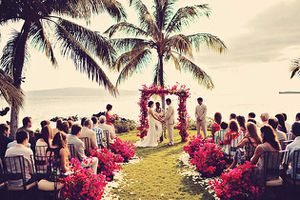 Getting married someplace tropical is delightful literally any time of year, but if you're going to go tropical in the summertime, you have to expect a little extra heat.
Your wedding guests will understand what they're getting themselves into (maybe) and won't accept your wedding invitation if they find extreme heat and humidity unbearable, but for all of those loved ones who do travel close to the equator for your big day, you should do everything possible to make sure their experience is as comfortable as possible.
Many tropical wedding venues are outside on a beach, or along the water, because it's not that common to have large, air-conditioned spaces in those destinations, unless you're in the ballroom at a chain hotel or resort. While you're certainly hoping for just the right breeze outside, you have to plan ahead.
You don't have to mist your guests like veggies in a grocery store, but you do need to keep their comfort (and your own) in mind when making decisions about the following three things:
1. Accommodations: Make sure you offer air-conditioned lodging options to your guests when you provide the travel information for your destination wedding. Don't obligate yourself to fill 15 rooms at a trendy eco-resort in August if you don't have 30 friends who like to sweat and don't mind sleeping under bug nets. If that's your pleasure, by all means, go green! But don't ask everybody who is joining you in the tropics for your wedding to sleep without cool air. No matter how hot it gets in the daytime, your guests will have fun as long as they can sleep comfortably.
2. Timing: I wouldn't recommend having your wedding ceremony in the morning or the middle of the day. It just keeps getting hotter until about 3:30 in the afternoon, and even with tents, your guests will have a tough time enjoying themselves. A lot of guests might not feel like dancing, and everybody will likely be sweaty messes in pictures.
3) Self-Serve Beverages: Wedding guests have a tendency to over-drink at tropical wedding receptions because they're hot and they're thirsty. To combat guests overindulging on cocktails, offer a self-serve dispenser of ice water (float fruit slices in it for color and a bit of flavor) beside the bar so that guests may help themselves to as many cold cups of water as they like and need. People will usually order a cocktail when they have to get their drink at the bar, figuring they don't want to have a whole bottle of water. If there's a cold water dispenser on the bar, they'll likely drink a cup or two while waiting in line at the bar, and standing in that area. Some brides and grooms offer self-serve lemonade and iced tea to their guests as well — it's all about location and availability. You can make the display look really cute, and in doing so, attract more people to help themselves so that you keep your guests hydrated and a little less intoxicated